Shodeen Residential: Building Quality Since 1961
From Our Family to Yours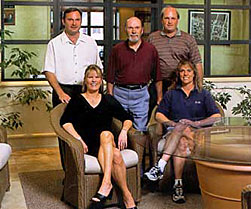 When Kent Shodeen settled in Geneva in 1961, little did he realize the lasting influence he would have in the development of the quaint, rural Illinois community and its neighboring towns. Now, his namesake company, Shodeen Inc., is widely recognized by area residents, as well as business and civic leaders, as one of the Fox Valley's premier construction, management and land development firms.
Shortly after moving to the Tri-Cities, the native Chicagoan built a single-family home, intending to move into it with his wife Joan and young daughter, Beth. Those plans changed, though, when someone came along and offered to buy it. Kent Shodeen sold the home for a modest profit, and that seed money helped finance more "one-at-a-time" projects over the next several years. Kent Shodeen's reputation for building quality homes began to grow. In 1966 he greatly expanded his home building portfolio with the purchase and development of 62 acres of undeveloped land in Batavia. Building out a portion at a time, he transformed the unimproved parcel of land into Carriage Crest, a 160-home community.
Today Shodeen. Inc. is a diversified, family-operated firm whose residential arm has housed more than 5,000 Fox Valley area families, and also built and managed major retail, office and commercial developments, landmark restoration projects, hotels and restaurants.
Founder Kent Shodeen remains as company CEO, and in the past decade the second generation of the Shodeen family has become actively involved in managing the day-to-day operations of the corporation and its diversified interests in various capacities.
As longtime residents, the Shodeen family
has a firsthand perspective of what area home buyers want.
Shodeen's most ambitious residential project to date is Mill Creek, one of Kane County's largest master planned community of single-family and multi-family residences. Spanning over 1,700 acres just west of Geneva, Mill Creek garnered prestigious honors from the National Association of Home Builders and *Professional Builder* magazine in 1999 as the "Best Overall Community in the Midwest."
Mill Creek stands out as a preeminent example of the principles that have contributed to the company's history of responsible community development. With beautiful homes set amid 36 holes of golf and over 17 miles of walking trails, in a natural setting consisting of over 45% open space, this superbly planned development includes a downtown village center with convenient shops, parks, schools, churches, clubhhouse and pool, and the highly-rated Mill Creek Elementary School.
"My father has never wavered from his original goal to offer home buyers the most value for their investment." said Craig Shodeen. "Mill Creek exemplifies his vision and his home building philosophy of superior quality and attention to community values and buyers' needs." Prime among those needs, Shodeen points out, is location. "As longtime residents ourselves, the Shodeen family has a firsthand perspective of what area home buyers want," he said. "Our properties offer the best of both worlds—convenience to jobs, good schools and shopping, plus leisure attractions, all within a friendly small town setting."
Without question, ShoDeen's residential and commercial development projects have changed the landscape of the burgeoning Fox Valley area and added significantly over the years to its economic base. ShoDeen. Inc.'s commercial projects include major retail and office space, including Tri-City Center in St. Charles, Williamsburg Professional Center in Geneva, Geneva on the Dam